Deploying Aruba Access Points Follow
This document will describe considerations while deploying an Aruba Network for use with Meridian Mobile Engagement, Asset tracking, Aruba Tags, and Beacons Management. For comments and questions, email us at  support@meridianapps.com.

There are 2 primary sections to this arcticle;
1. Access Point placement for Mobile Engagement/Asset Tracking use-cases
2. Beacon's management use-cases in 3rd-party WLAN environments


For a list of all compatible hardware and AOS revision please visit  Meridian Deployment Prerequisites
or

For configuration of Beacons Management and Asset Tracking for your Aruba WLAN visit our  Configuration guides.
Mobile Engagement / Asset Tracking 
Physical Placement of Access Points
For best Aruba Tag tracking accuracy and/or blue-dot/way-finding services, we recommend placing one AP AT LEAST every 150-230 square meters (~1600-2500 square feet).
The following is an example of AP placement in a retail warehouse space where the ceiling may be anywhere from 7-10 meters (~20-30 feet) high. The retail space is relatively open with shelving aisles for product display and storage.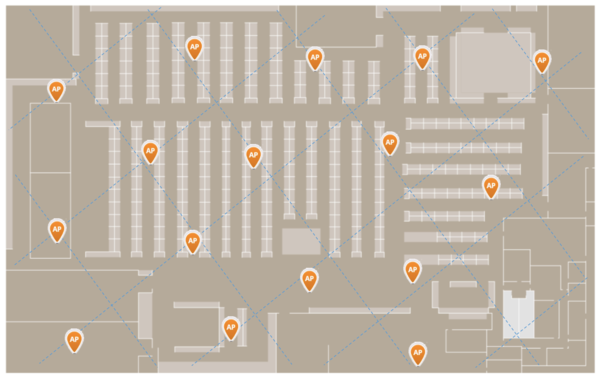 The following is an example of AP placement in a medical facility. The medical facility is more closed-in than the warehouse space with a ceiling about 3 meters (~9-10 feet) high and with hallways and rooms separated by walls, doors, or glass.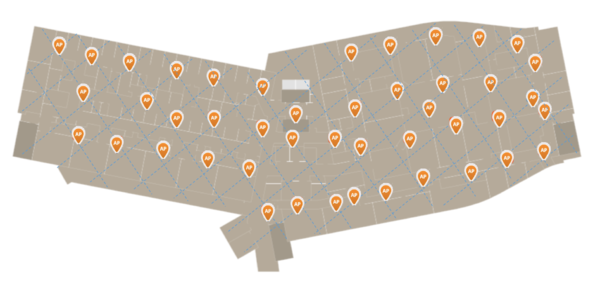 Beacons Management
Physical Placement of Access Points
This section was designed to help with AP placement in a non-Aruba WLAN environment. It is important to note that in a pure Beacon Management use-case the AP density can be much lower relative to asset-tracking or mobile-engagement use-cases.
In the case that the environment is a non-Aruba WLAN we recommend our lower-cost Access Points which can be used purely for their Bluetooth capabilities and Beacon Management functionality. 

Recommended low-cost Access Points for non-Aruba WLAN
1. 203R
3 Gigabit Ethernet ports
Powered directly from AC power cord (separate SKU)
Integrated BLE radio
Mesh-mode supported
2. 303H
2 Gigabit Ethernet ports
Can be powered via PoE
Integrated BLE radio
Mesh-mode supported
Step 1: Identify the Path/Area zones where you will place your beacons.
Step 2: Plan your beacon deployment. Recommended density of beacons is every 10 meters (30 feet) to achieve 3-5 meter accuracy.
Step 3: Place your Access Point (Beacon observers) no further than 30 meters away from any beacon you wish to monitor/manage.
Area Deployment: Assuming a beacon placed every 10 meters, as recommended, you can achieve UP TO a 1 observer to 20 beacon ratio
Path Deployment: In order to maintain coverage in long hallways (common deployment in healthcare), you are likely going to have a tighter ratio…. UP TO 1 observer to 4/5 beacon ratio
Keep in mind that recommended density is largely dependent on the level of attenuation in the environment. If the level of signal attenuation in the environment is high- you will likely need to increase the density of your observers.