The Meridian App Sandbox
The Meridian App Sandbox is the ability to host external web pages inside a Meridian-powered app as if they were part of the app itself.
The Sandbox is the only way to implement proprietary functions inside a Meridian-powered app. The Sandbox has a runtime environment and a local Sandbox API. A web page can trigger actions, such as navigating a visitor to a Placemark inside your location.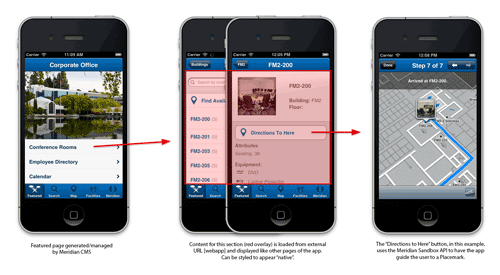 Example Sandbox flow
Additionally, you can use the REST API to access all the data you've associated with your location in the Editor, such as Placemarks, Pages, and Events.
---
Using the Sandbox and REST APIs, you can build web pages that enable your visitors to do things like:
Finding and reserving conference rooms in an office

Ordering food and drinks from your seat at a stadium

Search the archives of a museum's exhibit collection