Themes
The Meridian Editor Theme page controls the color scheme of your Meridian-powered app. This articles describes how you can use this page to customize your app.
In the sidebar, click Theme.
Logo
The logo image will appear at the top of your Featured page.
For best results make sure your logo image size is at least 500px X 150px in the PNG image format.
You can upload logo images in two ways.

First, click and drag an image onto the IMAGE droplet.
Second, click the IMAGE droplet, find the image file on your computer, and then upload it.

Once the image is uploaded, a thumbnail of the image is added to the droplet. To remove the image, mouseover the droplet, and then click the red trashcan.
Outer and Inner Color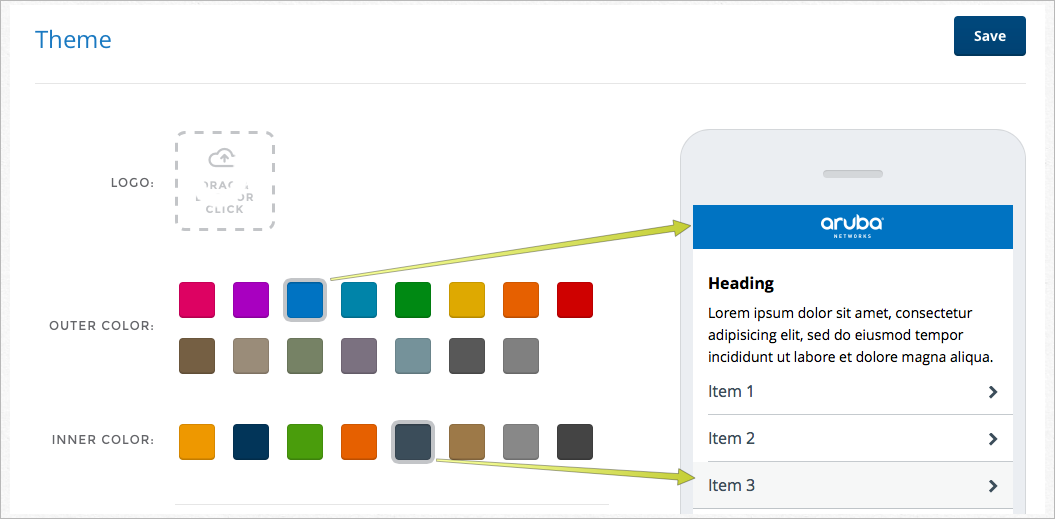 The OUTER COLOR colors set the Meridian-powered app's header color.
The INNER COLOR colors set the text color of the app's link text and other elements.
You may notice that the inner colors change as you choose new outer colors. Our graphic designers have chosen inner colors that work well with each of the outer colors.